This model A pick up came in for odds n sods to be done, I did'nt want to give it back to the owner because I liked it that much!!

---
This Sierra Cosworth came in for a full repaint, it ended up having quite a few RS500 mods being done to it also at the owners request.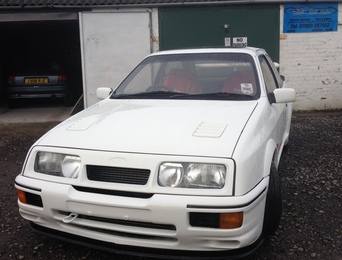 ---
Jo's golf cabrio came in for a full colour change and 2 x front wings and rear arches, It realy suits its new colour dont you think?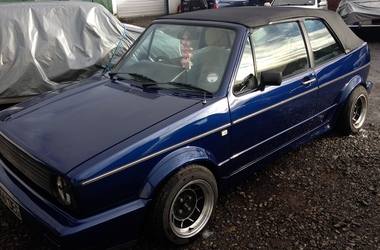 ---
This is Josh's quite unusual Holden Ute(based on a General motors design) with the inline six engine, It is in for a full body restoration and respray, and minor mechanical refurbishment, and as per the "norm" tackle all the rust issues, which as you can see from the photo's, we are slowly working our way through the "ute's" issues.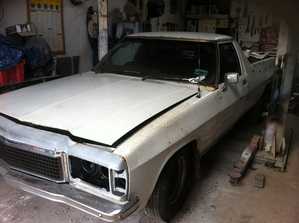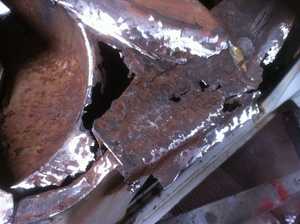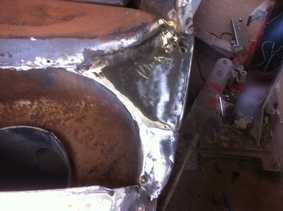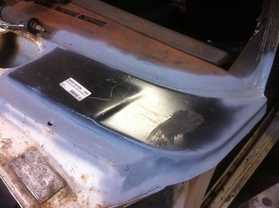 Its now getting there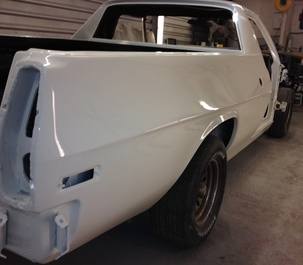 ---
This nice GT6 belongs to Dave, it came into us recently for a complete body restoration/respray and re-upholstery. The car had not been gapped correctly(as can be seen in the photos) and someone has cut out the front rain gutter, which has also to be replaced, and has the usual rust issues here and there, but all in all, the car is pretty solid.
We spent a lot of time in getting the off side door gaps nice and clean, but still require a few "tweeks" here and there.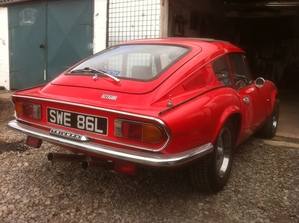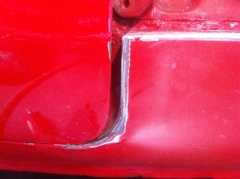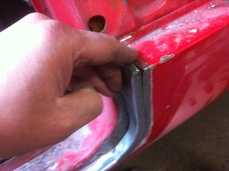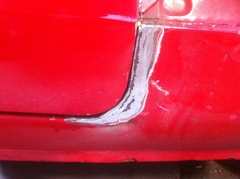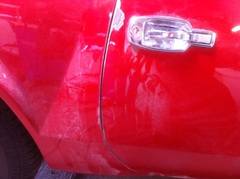 It looks better than ever now, and now is a lot safer/stronger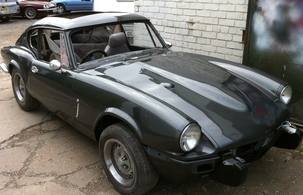 ---
This trike came into us for paint and electrical work, the box on the back is all steel and was all fabricated by hand at M.E.S.S(Motorcycle Engineering Service & Supply) next door, and looks quite servi-cary(if you know what I mean) and also quite a nice oldy worldy paint scheme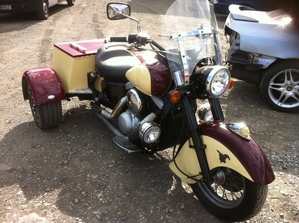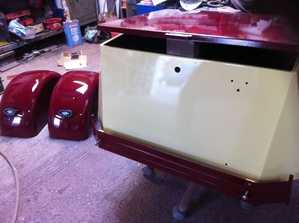 ---
This was a paint and pinstripe job that came in last week 4/3/2013. All panels were polished aluminium, so the area to be painted had to be sanded flat, acid etch primed, masked up on three different stages of the paint job, and painted, then clearcoated over the new paint, It came out rather well ! Even if i do say so my self!!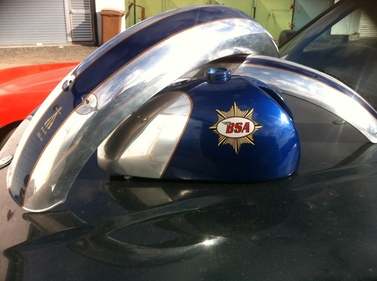 ---
Here's another classic that has come into my shop, it's a full rally spec mk2 escort, but unfortunately, it has had one too many arguments with trees and walls?
It's in for paint and three of the four corners repairing/straightening, one side with a new tarmac arch getting fitted, and the dents pulled out, the other sides are small dings and a new front spoiler to be grafted on to fit.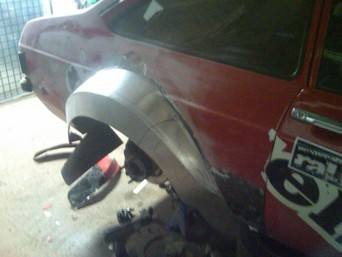 As you can see in the pictures below, the escort is getting ready for paint. It was a bit of a nightmare, if im honest. The arch had to be heavily modified to have the same profile of the arch on the other side. Both bottom corners had to be radiused, re-shaped and re-inforced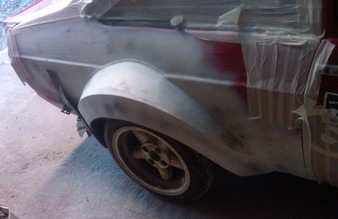 The front spoiler also had to be modified to fit the escort. It was 50mm too narrow. So a two inch filler panel was fabricated following the same profile, and ally welded in place. The edges of the spoiler also had to have sections added so as it would follow the lines of the car, but its starting to look good now.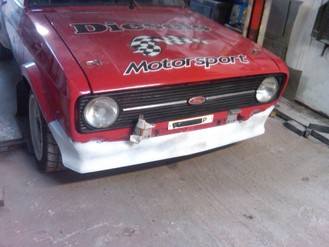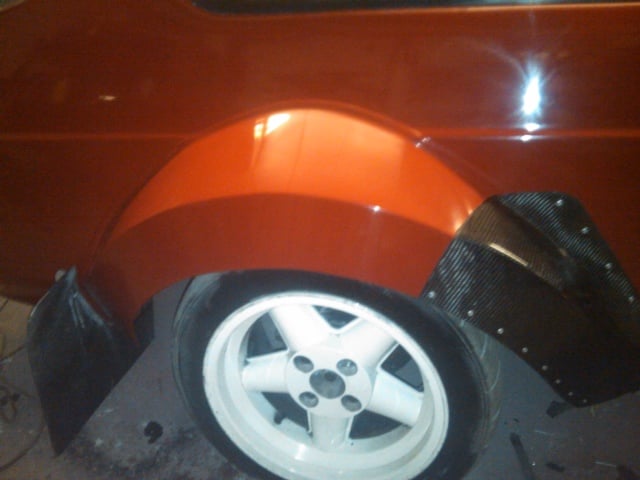 The arch and panel damage turned out great in the end.
---
This xjs 4.0ltr facelift has been keeping us busy for a while. Originaly it came in for some under side welding, and some fabrication. We hand made lower rear quarters for it and also wheeled and shrunk new metal to form a wheel arch section that had rotted out.
It eventually ended up having a complete re-spray and lots of welding and faults repaired.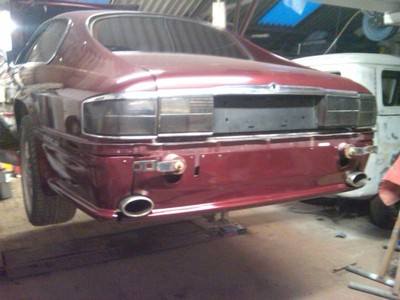 The Jaguar XJS has now been re-sprayed and is looking stunning. There are a few minor electrical faults to sort out, strip and re- paint wheels, supply and fit new 245/40/18 tyres, and then I think this one can go home!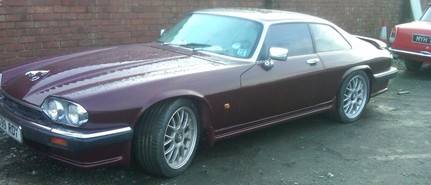 ---
This is one of the more longer term projects, the customer is going very retro with this one. It was quite a good van to start with, but as per most old veedubbs, it still needed a fair bit of welding and sheet metal fabrication to get the sides straight and floors strong. It should be on the road just before the summer. (2013) :-)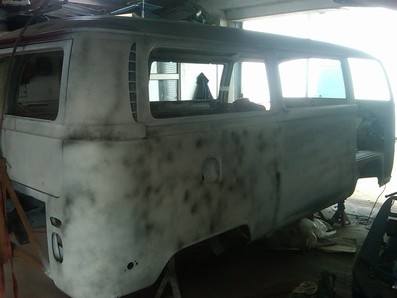 The camper van is in paint now also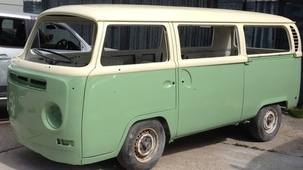 ---
Here is another longer term car, it is a 1968 Ford Cortina 1600 super with 63k on the clock, It has just been uprated to GT spec, with the fitting of a free flow four branch exhaust manifold and also a webber twin choke carburettor, it will also come with four spoke alloys with black centers, it has also been lowered two inches so it sits nice on the road, it has had most of the bodywork and welding done, it has also to be repainted in its original Ford Ermine White. Should be a beautiful car when it is finished in around four weeks time, and shall be up for sale around that time.(if your interested at around the 3.5k mark, please contact me)